Regardless of physical ability, any individual can benefit from Taekwondo. Even though Taekwondo is largely an art of kicking, we use traditional training techniques, regardless of physical limitations, to help students achieve balance between body, mind and spirit.



Junior and Intermediate Division (ages 5-13 years old):
Program Runs: Saturdays from 10:00-11:00 am at Tiger Taekwondo (7619 – 104 St)
Registration Fee: $240 (or 4 Bingos) PLUS 1 Mandatory Bingo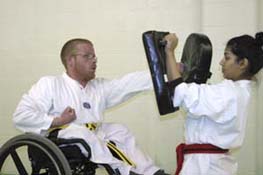 The Tiger Taekwondo Paralympic Class is a joint venture with the Alberta Paralympic Sports Association. For more information, contact the Paralympic Sports Association at 780-439-8687.