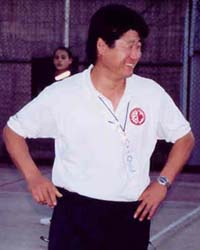 Grandmaster Su Hwan Chung, a Korean native and 8th Dan Black Belt, is the Head Instructor at Tiger Taekwondo. He is aware not only of the techniques of Taekwondo, but also the martial arts philosophy that embodies courtesy, patience and respect.

- 45 Years of Martial Arts Training and Experience
- President, Taekwondo Canada
- Canadian National Team Coach
- NCCP Level IV
- Conductor, WTF Canada Instructors Academy
- World Taekwondo Federation, Taekwondo Canada and Alberta Taekwondo Association Member

Master Chung takes a personal interest in each student's development, helping him or her to overcome their weaknesses, as well as enhancing their special abilities. His goal in teaching is to provide an educational setting in which students acquire the wisdom of knowledge, the skills to protect themselves and a positive attitude.
TAEKWONDO HISTORY
1966 Began training under Grandmaster Han, Korea
1968 Korean National Middleweight Champion
1975 Opened Simon Chung Taekwondo in Edmonton
1990 Became Head Instructor, Tiger Taekwondo
1995 Canadian Team Coach, PANAM Games, Colorado Springs, USA
1996 Canadian Team Coach, PANAM Games, Costa Rica
1997 Canadian Team Coach, World Cup, Egypt
1997 Core Faculty Nation Instructor, Academy of WTF Canada
1997 Alberta Team Coach
1998 Canadian Team Coach, PANAM Games, Peru
1999 Canadian Team Coach, World Taekwondo Championship, Edmonton, Alberta
2000 Canadian Team Coach, World Cup, France
2001 Canadian Team Coach, World Taekwondo Championship, Jeju Island, Korea
2002 Canadian Junior Team Coach, US Open, Orlando, Florida
2002 Canadian Junior Team Coach, World Championships, Greece
2002 Canadian Women's Coach, Seoul, Korea
2008 NCCP Course Conductor
2009 Secretary General, Taekwondo Canada
2010 President, Taekwondo Canada


CHAMPIONS PRODUCED
2008 Canadian Senior Champion - Jessica Johnson
2007 Canadian Junior Champion & MVP - Jessica Johnson
2006 Canadian Junior Champion - Kevin Mejia
2000 Canadian National Champion - Cherie Travis
1999 Canadian National Champion - Jessica Becklake
1998 Canadian National Champion - Barbara Pak
1997 Canadian National Champion - Shelley Vettese-Baert
1992 Canadian Junior Champion - AJ Chung
1992 Canadian Junior Champions - Raphael Caluttung
1992 Canadian Junior Champion - Jessica Becklake
1992 Canadian Junior Champion - Barbara Pak
1992 Canadian Champion - Ay Lor
1992 Bronze Medalist Olympics - Shelley Vettese-Baert
1991 Junior World Champion - Radea Schow
1991 Silver Medalist PANAM - Steve Godwin
1991 Canadian Champion - Steve Godwin
1990 Canadian Champion - Shelley Vettese-Baert